!--Google?Tag?Manager--?>



Please contact ROKKO at
Attention: Overseas Sales Dept.

TEL: 81-798-65-4508
FAX: 81-798-67-5038








Job Opportunities
Please click below





























































































ROKKO ELECTRONICS Co., Ltd.

Zipp: 663-8105
8-5, Nakajima-cho, Nishinomiya-city, Hyogo, Japan






















New factory opened exclusive
for new material wafer processing

2017/01~

~New materials:SiC,Sapphire,LT,etc~


●Increased processing capacity to cope with mass-production.

●Separated from silicon wafer processing, wafer incoming~
delivery to be one-pass process.

●Cost advantage by the process reduction.

●Mass production started in March, 2017.


■ New factory image


※New factory(D building) overview
 

3F Cleaning/Outgoing Inspection

 

2F Polishing room

 

1F Grinding

■ Strength of new factory

 

High quality achievement of "Flatness", "Surface roughness", "Work-affected layer" by use of high-rigidity grinder
⇒Reduction of process cost.
 
 
 
 
Reduction of sleigh after back-grind thinning.
⇒Capable of one-pass processing of grinding + polishing.
 
 
 
 
High level cleanness by introduction of exclusive cleaning equipment for Siapphire
(Reduction of contamination + particle)
 
 
 
 
Expect to introduce knife-edge prevention process for Sapphire, which is already under operation for silicon.

■ Thinning process of patterned SiC wafer
Example of patterned SiC wafer processing
Result of thickness variations of grinded wafer (SiC 6-inch wafer)
Unit:um 


※TV5: 1um≧ after grinding
 

Result of roughness comparison after grinding (SiC 6-inch wafer)

 

Thickness variations/surface roughness improved by use of High rigidity grinder.

※Surface roughness improved with conventional grinder.

■ Ultra-Thin SiC wafer processing


Sample data of SiC wafers processed with wafer support.
4" SiC wafer used to achieve ultra-thin & ultra-flat.
※Result of thickness variations of grinded wafe (SiC 4-inch wafer)


Backggrinding

4 inch SiC

TV5 (um)

Range

A

B

C

D

E

22.88

22.4

22.03

22.75

22.31

0.37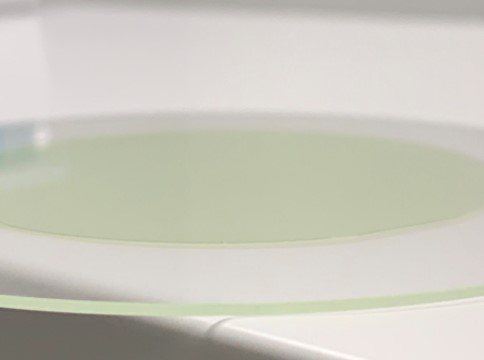 ■ SiC wafer grinding and polishing services



Rokko is one of the few companies that provides an integrated SiC wafer processing service (Wafer grinding, polishing and RCA cleaning) through its soley develped technologies.

Rokko has developed techniques to utilize its existing semiconductor tools and equipment for SiC operations. In comparison of the conventional equipment available in the SiC industry, Rokko's process has its advantages in throughput, wafer warpage, roughness, and flexibility of wafer size.





● Total reflection x-ray fluorescence analysis tool TREX610


Measurable elements: 12 elements (S, Cl, K, Ca, Ti, Cr,Mn,Fe,Co,Ni,Cu,Zn)

● Candela CS20 Wafer surface inspection machine


Wafer Size: 3, 4, 5, and 6 Inch
Measurable thickness: 300-1400um

■ Automatic scrub cleaning process


■ New equipment:
After polishing, residues contain alkaline substances results in becoming polishing marks or sources of particle. Removing such residues before coated by native oxide films is one of the key techniques in polishing.
In our conventional process, wafers are cleaned piece by piece through operator's manual scrubbing. Now, Rokko introduced the automated cleaning equipment to eliminate human errors and deviation of quality to achieve the uniform stable quality.

■Wafer Size:4, 5, 6, 8 inch
■Thickness:~ 100μm
■Patterned・ MEMS and SOI Wafer
Glass supported wafers also can be processed.



● Automatic scrub cleaning machine


High cleaning performance.


● Automatic scrub cleaning machine


Wafer Size: 4, 5, 6, 8 Inch
Sapphire and SiC wafers can be processed


■ 
SiC wafer process

Comparison of SiC wafer process
 
Conventional process
Rokko's process
 
Diamond lapping
Polishing, CMP
Grinding
Polishing, CMP
Running cost
High
(Metal wheels + Diamonds)
Moderate
(Pads + Slurry)
Moderate
(Diamond wheels)
Moderate
(Pads + slurry)
Required level of process technology
High
Moderate
High
High
Cost of equipment
High
Moderate
High
High
Throughput
Very low
Low
Moderate
Moderate
Remarks
Wax mounting
Difficulties in lapping table adjustment
Higher number of process is required.
Wax mounting
Difficulties in lapping table adjustment
Vacuum chucking system.
Automatic grinding machine for sapphire and .SiC
Waxless polishing

■ SiC wafer grinding process-Roughness

150mm SiC wafer grinding surface roughness


Evaluation
Rough grinding
Final grinding
Roughness
Ra
12.4-14.6nm
2-5nm
Warp
Visual(Scale)
0.5-0.8mm
0.2-0.4mm
※Surface roughness:Non-contact type surface profile measuring equipment :Zygo

■ SiC wafer CMP surface AFM measuring result 
(6 inch)

6 inch SiC surface polishing surface AFM measurement result 
(3 points of surface)


Center
Ra:0.711Å

Middle
Ra:0.576Å

Edge
Ra:0.632Å

150mm SiC wafer Si surface post CMP surface roughness  Ra < 0.1nm


■  SiC wafer post cleaning particle measurement result

150mm SiC wafer post cleaning particle measurement result

Pre cleaning

Scrub cleaning

RCA cleaning

 
 
1.Scrub cleaning is effective for emoving large size particle
2Particles and dirt are removed after RCA cleaning
3.10 pieces≧0.3um

■ Metal contamination after SiC wafer cleaning

150mm SiC wafer metal contamination after wafer cleaning

TXRF tester

Result of measuring(by TRFX) SiC wafer cleaning process

<5X1010atoms/cm2